Kmalu v Prodaji...cene ugodne.
Dva v enem plus veliko več!
To so sedaj vsi kateri so vozili LRP in Nosram vozili na Svetovnem prvenstvu,.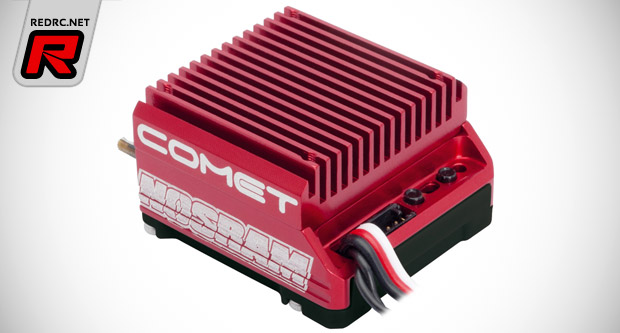 Like the new LRP Flow speedo but prefer red then try the Nosram Comet. Following two years of hard work and designed from scratch, the new Comet speedos are based on a completely new platform replacing the three popular Pearl Evo Version 2 speedos. Racers can use the Comet speedos for modified and stock racing, offering a multitude of setup options. Optimised cooling, extremely high power output over the entire RPM range and simple but flexible adjustability are only some of the highlights that make the new Nosram Comet speedos stand out. The unique software, a heavy copper 8-layer powerboard and the compact 2- piece machined aluminium housing have never been seen in a brushless competition speed control before. Its construction from thermo-conductive aluminium makes the case highly efficient for cooling.
Features:
- Modified and Stock Racing; All purpose onroad and offroad software for modified and stock classes, incl. boost 0
- Multi-mode profile adjustment; 7 fully adjustable parameters for stock and modified: auto brake, feel, torque timing, boost timing, boost angle, boost turbo, cutoff voltage
- HD full aluminium case; For lowest core temperature and tough race design
- Bulletproof 6V/3A linear BEC
- Easy solder U-Tab Design; Heavy copper, multilayer PCB for lowest resistance
- X-Brake Pro; New efficient and precise brake software
- USB Software Updatability; Benefit from all the latest performance improvements and updates available at
http://www.nosram.com
- Revolutionary Internal Temp Check System 3; Allows you to read out the maximum internal temperature for each the speedo and motor
- Extra small size; 32x34x21mm for easy installation in all cars
Source: Nosram [nosram.com]